So I found
this video
a while ago. It's a video of the "Natsu da! Drill da! Gurren Lagann Matsuri!" event from back in summer 2007.
Clips from this video were already posted on Youtube a long time ago (mainly the parts where the seiyuu switch roles), but I hadn't seen this part before. It shows the very early designs of the main characters, and I've screencapped them because I find them interesting.
Here are the very first designs of Simon, Kamina, and Yoko (with some comments from the seiyuu):
Simon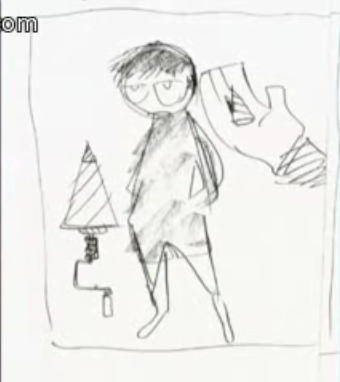 "Who's that?!" "How disappointing." "That's just a scribble!" "He looks kind of insolent."
Kamina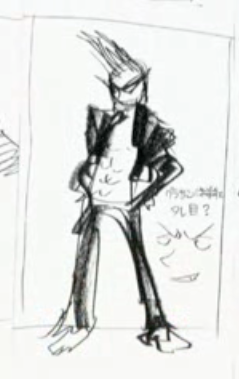 "KITTAN!!" "That's Kittan!" "Onii-chan..."
Yoko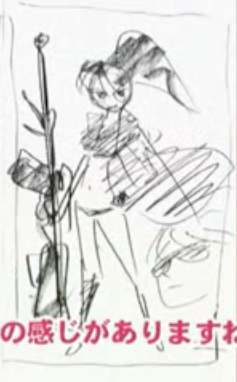 "Well, that's...pretty much like she is now." "I wonder what an anime using these designs would look like." "I want to see this Gurren Lagann! Please make it!"
Later designs: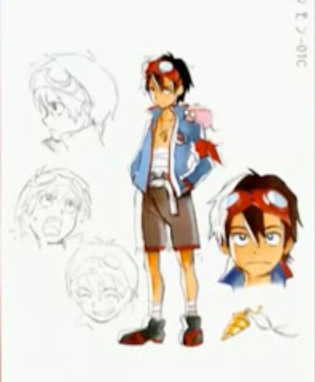 "Ooh, he looks manly." "He looks a little older than the Simon we have now." "He's kind of cool." "He's slim." "He looks taller somehow."
Then these were compared to the final character designs. Amusingly, Konishi's first comment upon seeing Commander Simon was "Aladdin, he's Aladdin!" XD
Designs for Kamina and Yoko were also shown, which you can see in better quality in this image: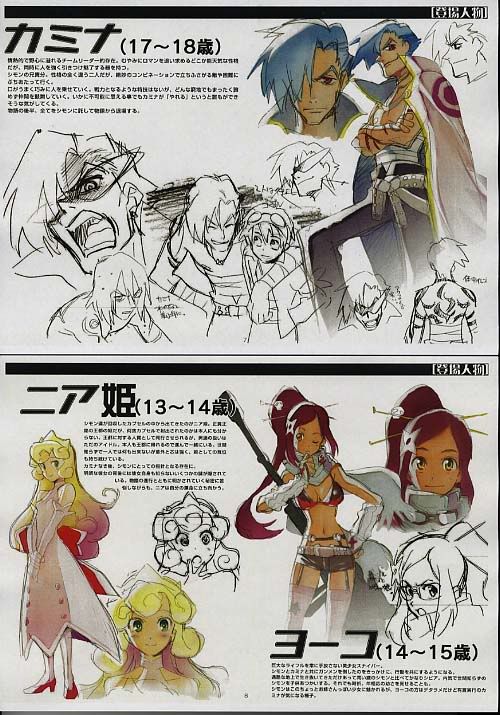 Kamina
"He's not Kittan anymore." "He's completely different from before." "I want to know how he came from that early design to this." "Like when his hair came down." "His hair was standing straight up."
Yoko
"From beginning to end, she's pretty similar." (Konishi)"Don't you think that at this point, she might have kids?" (Inoue)"What does that mean?!" "She looks young." "Her face is rounder than it is now." "She has a softer, kinder feeling." (Konishi)"But her breasts are still big."
This version of Nia actually wasn't shown because apparently, her design fluctuated so much, that until they decided on her final design, there were so many versions that couldn't even be recognized as Nia now.
And
Viral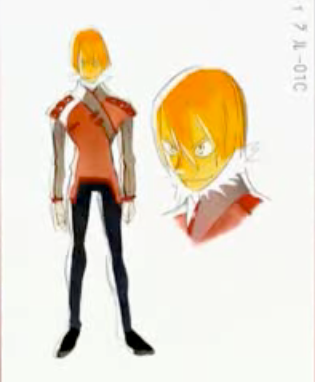 "He looks like an aristocrat!" "A prince!! A prince!!" (Hiyama)"Where did this Portuguese guy come from?" (Konishi in fake accent)"Open your country to us please." "Hey, you can see both of his eyes in this image." "I wonder why they chose to cover his eye in the final design."
They also noted that Viral still has some frills on his sleeve in the final design, so maybe the staff wanted to keep a bit of that aristocratic vibe to him.
Also, I've been wondering for a while now where the prevalent assumption in Japanese fandom that pre-timeskip Rossiu is ten years old came from. Well, watching this now, I think this event might be where that originated, because Mitsuki Saiga says that Rossiu is ten years old, younger than Simon, making him 17-18 years old post-timeskip. She doesn't say who told her that, but I assume it was someone in the main staff...