I have a bunch of various trading figures (and other figures) that need new homes. All figures were displayed for a short time, but are now sitting in a box.




GURREN LAGANN: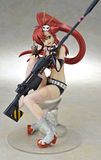 Kotobukia 1/6 Yoko. $115. displayed for a while, in original box. all accessories included. has some paint transfer from the gun on her leg. Hard to find. PP.

check my LJ for more items on sale!